Thursday, December 14, 2006
Sabertooth will die , or I will.
From Punisher's War Journal.
I've never really had any particular love for superheroes. But if anyone dies I want to punish those who are guilty. The Girl X-23 thought she was going to knock me out .
I wake the Woman Shi with smelling salts. " Are you actually supposed to be trained?" I sneer. " You let the little girl knock you out I think you have to turn your Katana.
She curses me in Japanese I can see why her and Logan get along. At least X-23 ' feeble attempt to knock me out gave me a chance to put a tracer on her. We find her in the seedy part of town. Sabertooth was handing her head.
When he kicks her away I fill Sabertooth with lead.
" Ya idiot !" he screams. " My healin' factor keeps yer bullets from killin' me ."
" Bet it still hurts huh?" I respond. I toss a Thermite grenade that set him a flame. He charges me trying to burn me as well. Shi knocks Creed back with some power or something.
It wasn't enough Victor just goes after her. While he's not looking , at me I knock his knee out of it's socket with a kick. While he's recovering I put my pistol in his eye, and fire. At the same time, Shi plunges her swords into his lungs.
All this does is set him off in a bezerker rage. During this he claws through my kevlar armor. After he spends his rage on me he turns to Shi. " Well Darlin' I'm gonna send ya ta Logan like I said I was gonna do the other day!"
A gruff voice comes from an alley " Aw Vic Ya don't have ta send her to me Bub, I'm right here."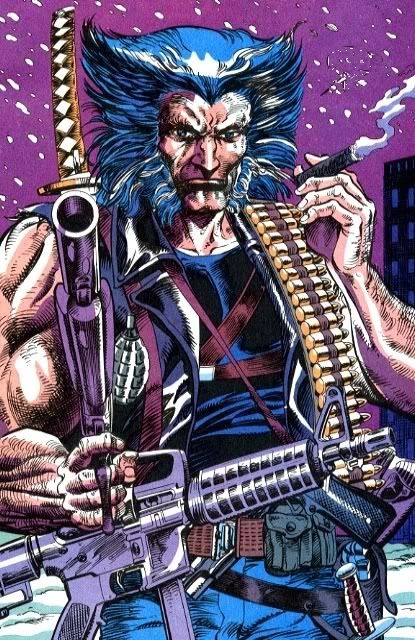 What the Hell?